Camy's is looking for partners that share our values.
Do you have what it takes to grow with Camy's Chargrill Chicken? Are you hardworking and ready to grow a successful business backed by a dedicated franchisor? We are looking for motivated and dedicated franchise partners to join the Camy's Chargrill Chicken Family.
Camy's Chargrill Chicken is a quick service restaurant delivering on our passion for food through chargrill chicken, salads, burgers, wraps, drinks and delicious artisan products with hush hush ingredients. 
As well as serving local communities, we provide local catering that is tailor-made and adapted to each client's whim. We deliver delicious delights for our clients catering requirements that exceed expectations. Camy's is the perfect complement to any event – from a boardroom meeting to Melbourne Cup Day and everything in between.
Our menu has been passed down through family recipes and perfected in the Camy kitchen. Inspired by the tastes of the Middle East and Colombia, we bring traditional flavours to a modern favourite.
Simple. At Camy's our vision is to spread healthy food made with love to the world – while having fun. Our mission is to amaze and inspire everyone we interact with by a positive attitude and mindset – we truly want to breathe happiness in and out.
Key Benefits for Partners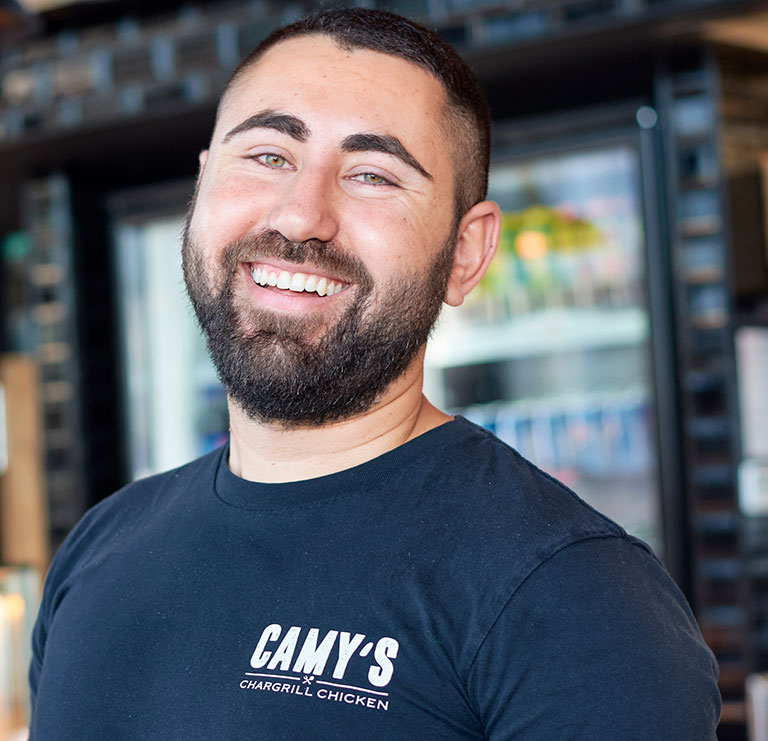 CEO and founder Cameron Khilla (Camy) brings over sixteen years of extensive knowledge and experience of the quick service restaurant industry to Camy's.
Having grown stores to three outlets across Sydney in the last five years, he is ready to invite partners to grow the franchise network. With an Honors degree in business and economics with a focus on leadership, Camy works like a coach to bring the best out of his team and those around him. Tapping into the latest technology and innovation to train and motivate his team, Camy is staff and customer focused with a strong desire to combine food and happiness.
He has a reputation for continually improving himself, his brand, his restaurants and his staff.
We are looking for enthusiastic franchisees to grow the franchise network across Australia. No experience is needed – only a great smile and a dedication to make this work. All training will be provided to ensure that franchise partners are fully prepared to take on their role as owner-operator.
Franchisees will need strong and clear communication skills, backed by an energetic and full-of-life personality, as well as a pleasant, happy, and kind nature to serve our customers.
We are looking for franchisees that breathe the Camys' ethos: spreading happiness.